Pressley and Warren have re-introduced the Anti-Racism in Public Health Act. Here's what it would do.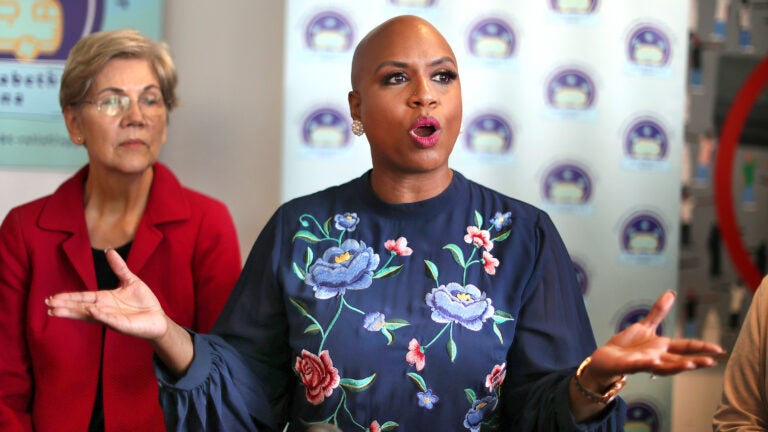 While historic racial disparities have continually persisted in public health coverage and quality, the COVID-19 pandemic's disproportionate effect on communities of color highlighted these inequalities more so than ever.
Now, Massachusetts Rep. Ayanna Pressley and Sen. Elizabeth Warren, along with California Rep. Barbara Lee, announced Wednesday they are re-introducing legislation that would declare racism a public health crisis and combat racial inequality in health care by creating a new "National Center for Anti-Racism" and "Violence Prevention Program" within the Centers for Disease Control and Prevention.
The trio, who first introduced the legislation in 2020 and then again in 2021, says that the initiatives created under the "Anti-Racism in Public Health Act of 2023" would oversee research and programs that would examine the effects of systemic racism as well as the impacts of anti-racist policies. The act would also look to "take a public health approach to combatting police brutality and violence."
The bill has 48 co-sponsors, including Massachusetts Rep. Jim McGovern and Sen. Ed Markey, and over 60 endorsements from medical professionals and organizations, but with a Republican-led House and filibuster-halted Senate, it is unlikely that the proposal will make it through.
"Until we confront structural racism as the public health crisis that it is, our communities – particularly our Black, brown, and Indigenous neighbors – will continue to be denied access to quality health care and racial disparities in health outcomes will persist," Pressley said in a press release.
"We need robust, comprehensive research on the public health impacts of structural racism and police brutality, and policy solutions to bring an end to these disparities once and for all," she added. "Our Anti-Racism in Public Health Act is the type of responsive legislation needed to help dismantle centuries of racism in our public health system. We have a mandate to deliver, and our communities deserve nothing less."
Informing policy decisions
The proposal would create a "National Center for Anti-Racism" at the CDC to conduct research, collect data, and provide leadership and guidance "on the science and practice of anti-racism in the provision of health care, the public health impacts of systemic racism, and the effectiveness of interventions to address these impacts."
If passed, the bill would also create at least three regional "centers of excellence" in anti-racism and educational programs to inform the public on the public health impacts of structural racism. It would also require coordination with other CDC agencies to ensure they consider structural racism in their programs and research.
Additionally, the legislation would create in the CDC a "Law Enforcement Violence Prevention Program within the National Center for Injury Prevention and Control," aiming to address the physical, mental, and social violence perpetrated by law enforcement officials.
Informed by the first iteration of the legislation, last year, the U.S. Department of Health and Human Services awarded the Boston Public Health Commission more than $490,000 in federal grants to address systemic racism.
In all, 10 cities received a total of $4.8 million in funding, with Boston using the money to combat homelessness and substance use, according to a statement from the Boston Public Health Commission.
Racial health disparities
The U.S. Census Bureau and the Agency for Healthcare Research and Quality between 2020 and 2022 reported significant disparities across race regarding access to medical care and quality of health care.
The agencies reported that people of color were significantly more likely to be uninsured, with 17.7% of Hispanic or Latino and 9.6% of Black or African American U.S. residents uninsured in 2021, compared to 5.7% of white residents. And while national life expectancy dipped in 2020, communities of color saw greater decreases in life expectancy than white communities.
Experts overwhelmingly agree that these disparities are derived from historic and systemic inequality, and that they will continue to persist as Medicaid's continuous enrollment provision winds down, potentially removing over 15 million people from Medicaid; the federal government stops providing COVID-19 public health emergency funds; and the overturning of Roe V. Wade exacerbates racial inequalities regarding infant and maternal care.